Since late 2014 construction of UNICA's new Child-Friendly and Women's Centre has been underway at Sizinda on the outskirts of Victoria Falls. The new Centre is supported by the Elizabeth Foundation, the Roger Federer Foundation, donations from UN City staff members in Copenhagen as well as individual donors from around the world.
The need for the new Centre was established as part of the "Catch Them Young" Early Childhood Development (ECD) project, which provides children under six with immunisation, healthy meals and facilitating positive dialogues with parents on issues including child rights. UNICA is continuing to implement in the Catch Them Young project partnership with the Roger Federer Foundation and other NGOs in northern Zimbabwe. This includes completing the Sizinda Centre to provide an appropriate facility in that area, replacing a local gazebo where ECD activities are currently being conducted.
Local Sizinda women had also expressed a need for a meeting place, and therefore a Community Hall was added to the plans for the new Centre, along with UNICA office space. The local community donated the land for the Centre, which as you can see from the images was earnestly inspected by members of the UNCIA team.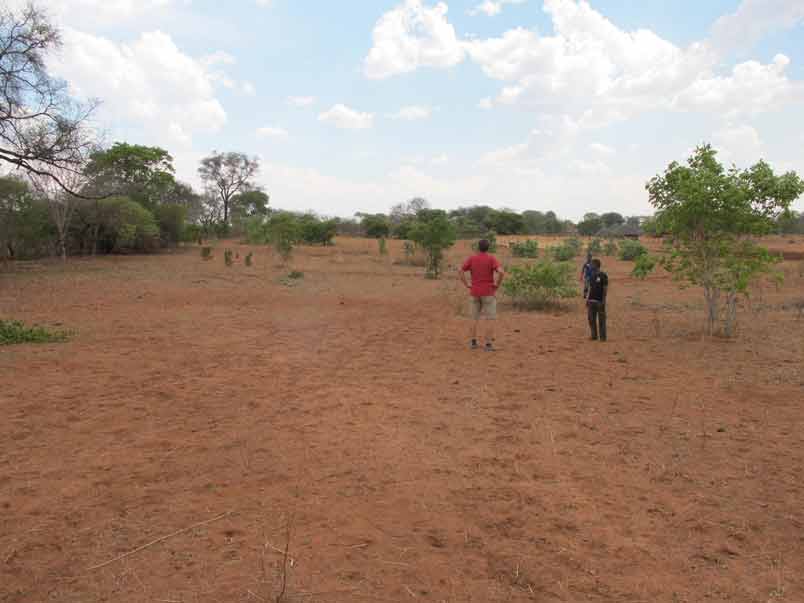 Contracted builders and the Sizinda community have since been working hand-in-hand to develop the structure. Early on Sizinda community youths as well as volunteers from the Victoria Falls Child-Friendly Centre organised groups that ferried quarry stones, large stones and river sand from a community called Jengwe about ten kilometres away to the site. River sand was also bought at a discount price from the Hwange Rural District Council as well as pit sand at a discount price from the Forest Commission. Construction of the slab base commenced after all these necessary materials were acquired and stored near the site. Volunteers also helped by with cooking food to feed the workers. The slab was finished over a two week period in December.
The second stage of construction was to raise the walls. All the bags of cement and bricks had to be transported to the site, while the door and window frames were put in place. The challenge for the builders was then to fetch an adequate amount of water to mix the cement, as the nearest watering point is some distance away. Ironically, construction was then delayed for several weeks due to the heavy rains in January. Thereafter, construction began again. Stones were used to build the front wall up to window level. Bricks were then used for the remaining walls.
The next stage of construction that is underway is the roofing, and connecting utilities including water, electricity and sewage. UNICA hopes that the roof on the Community Hall will soon be complete, allowing that part of the Centre to be used. Local community initiatives will then have a new place to call home in Sizinda!